THE MORMON CURTAIN
Containing 5,709 Articles Spanning 365 Topics
Ex-Mormon News, Stories And Recovery
Archives From 2005 thru 2014
PLEASE NOTE: If you have reached this page from an outside source such as an Internet Search or forum referral, please note that this page (the one you just landed on) is an archive containing articles on "RODNEY L. MELDRUM". This website, The Mormon Curtain - is a website that blogs the Ex-Mormon world. You can read The Mormon Curtain FAQ to understand the purpose of this website.

⇒ CLICK HERE to visit the main page of The Mormon Curtain.
RODNEY L. MELDRUM
Total Articles: 15
Rodney L. Meldrum is a Mormon Apologist - not accepted by FARMS.
Has anyone ever attended a Rodney Meldrum seminar? I have heard that he is working with Wayne N. May and that both of them are supporters of the so-called "Michigan Relics" as proof of the Book of Mormon. Even James Talmadge rejected the authenticity of the Michigan Relics. They are bonified fakes. I would think this would undercut any credibility that Meldrum might pretend to have. I know there are Mormons in my area who believe the Michigan Relics are authentic, but the evidence doesn't support them.

http://www.sos.state.mi.us/history/mi...

Alas Poor Rodney, That Skull is a Fake . . .

Yep, Talmage even said so . . .

http://en.wikipedia.org/wiki/Michigan...
In the July 28, 1911 issue of the Detroit News, professor Frederick Starr of the University of Chicago declared that the so-called relics were fakes. Also Mary Robson, who lived a room next door to Scotford's sons Percy and Charles, stated that the boys manufactured more "relics" all the time. No one filed charges.

They finds had also attracted the interest of Mormon Church members. This led Mormon scientist James E. Talmage in 1909 to participate in a "dig" and then to thoroughly test the artifacts in his lab back in Utah. His investigations led him to label the artifacts as frauds. In August of 1911, he published a work on his findings titled "The "Michigan Relics": A Story of Forgery and Deception".

Later in 1911 Scotford's stepdaughter signed an affidavit where she stated that she had seen him making the objects. Scotford and Soper never confessed and no more objects were found after they died. Father Savage died believing they were genuine.

Latest studies of professor of anthropology Richard B. Stamps of the Michigan Historical Museum indicate that the artifacts were made with contemporary tools.[1] Current historians tend to agree that Scotford and Soper joined forces to sell the fake relics for money.

The Church of Jesus Christ of Latter-day Saints kept 797 of the objects in the Salt Lake City Museum. In 2003 they gave them up to in Michigan Historical Museum in Lansing where they currently reside.
http://www.michigan.gov/documents/hal...
This morning in my inbox I received a startling bit of information from an anonymous tipster who appears to have deep sources within the power structure of Mormon intellectuals. I hesitated to post this thread, hoping to gather more evidence and corroboration, but in the end I decided that the story seemed plausible, and that it was important to pass it along to the rest of the board. This particular bit of "intel" concerns everybody's favorite Chapel Mormon: Rodney Meldrum. It seems that last week was to mark the debut of Meldrum's latest book, Prophecies and Promises. He trumpeted this proudly on his website:

http://www.bookofmormonevidence.org/i...

Meldrum wrote:
Prophecies and Promises now at Deseret Book! Nov. 12, 2009

Deseret Book is now stocking the newly released Prophecies and Promises book by Bruce H. Porter and Rod L. Meldrum. We are very excited that Deseret Book is now offering this important new research for the first time. Please be sure to THANK them for making it available either in person to a store manager, or online by clicking HERE.

Download the free excerpt of the book with the Foreword by Kieth Merrill available simply by clicking on the FREE DOWNLOADS tab above and following the instructions.

Please note that copies of the book should be available in all Utah stores by Friday, Nov. 13th and all out of state stores by next week, Nov. 16 - 20.
It seems, however, that Bro. Meldrum's excitement may have been a bit premature. If you go to Deseret Book's website and do a search for "Meldrum," it turns up zero results. So, what happened? Has the website not been updated? Is the book available only in Utah stores? Certainly, it's available at Amazon:

http://www.amazon.com/Prophecies-Prom...

Of course, it is less likely to find its way into the hands of its intended audience on Amazon. Purely from a readership and business perspective, the ideal sales point for the book is Deseret Book. So why is the text absent from their website?

According to my source, it was none other than FARMS who intervened:

Agent Q wrote:
It seems that Deseret Book had consented to carry Rod Meldrum's newly published book "Prophecies and Promises." They had also made arrangements for book signings at various stores in the region. But FARMS people were somehow able to put the kibosh on the whole deal, and now DB has reversed itself and Meldrum has been kicked to the curb. I guess internet Mormonism has triumphed.
We already know that the book is absent from Des. Book's website. Further, we know that FARMS in the past has moved to prevent Signature Books texts from being sold at BYU. In other words: there is an established history of censorship on the part of the Maxwell Institute.

I wondered, though, if the professors and academic bureaucrats at the MI would have enough power to influence Deseret Book in this way. This is how my source responded:

Agent Q wrote:
Meldrum was all set to have his book sold at DB and to do book signings in their stores. It was shot down by influence from FARMS people who have the ear of "The Brethren".
So, according to this, people at FARMS literally contacted the Brethren who then ordered Deseret Book to shoot down publicity for a book that argues in favor of traditional Church doctrine.

But is it true? Meldrum's excited announcement appeared on the 12th (Thursday of last week), which would mean that the Brethren's "termination order" was doled out within the last couple of days. On Meldrum's website, there has been no update concerning the book's publication, which does seem a bit odd. On the one hand, you would expect him to be announcing upcoming book signings in the Utah area, but on the other hand, if FARMS really did bring about this censorship, then perhaps Meldrum has been busy trying to figure out what to do.

It'll be interesting to see how this plays out.
Nick Humphrey talked about R. Meldrum's claim that human mtDNA mutation rates are 20x faster than previously thought. That this was evidence for (HAHAHAHA) a young earth to support revealed doctrine.

Nick Humphrey:
ME: can you please cite your reference for this claim? are either of you two lds? what percentage of cherokee is yates? i see yates has a PhD in *classical studies*, not genetics, as the description of this video seems to imply. i would also like to bring to attention to your viewers the article on fairlds entitled? "misguided zeal and defense of the church" about false scientific claims by yourself: "FAIR cannot support or endorse Mr. Meldrum's theories or presentation."

RODSTER: Science Vol. 279, 2Jan. 1998 "estimates of the date when humans and chimpanzees shared a common ancestor". Genetics, Vol. 172, Jan. 2006 "Assuming 6 million years for the human-chimp species split..." I am LDS, Dr. Yates is not. Neither of us are uninformed, while not geneticists, the strength of the research is derived from the scientific journals, not our credentials.

FAIR is a Mesoamerica devoted group who's poorly done research reflects their overwhelming bias.

ME: @Rodstervid321 ok so lets lay down the facts: 1) neither you or yates are geneticists 2) "the strength of the research" also depends on your *understanding* of the research 3) what i actually was asking for was a reference to a non-LDS geneticist who will endorse *your conclusion* (note, yates does not comment this in your video) that haplogroup X's introduction to *North America*--NOT *the America's*, since X is exclusive to North America (another hole in your theory) was 2000 years ago.

STILL WAITING FOR REPLY

RODSTER: On the controversy over DNA dating, see article? in Heredity Vol. 101:107-108, June 2008. Molecular Clock Debate: Time Dependency of Molecular Rate Estimates for mtDNA: This is Not the Time for Wishful Thinking. "When it comes to mtDNA, one should not use a sundial as a stopwatch." "Our meta-analysis confirmed that the pedigree rate was less than one set of phylogenetic rates by an order of magnitude." "Phylogenetic rate estimates vary widely" Many more references are available.

ME: @Rodstervid321 using your own words: "Phylogenetic rate estimates vary widely", seems contradictory then to claim an exact estimate of 2000 years ago.

but what is really puzzling is that you are pushing a theory supporting the book of mormon by using evidence--human and chimp common ancestry--which both contradicts lds/christian teachings, and disproves the old testament adam+eve 6000 y.b.p. origin of man myth.

STILL WAITING FOR REPLY
As evidence, Meldrum sent two references:

Science Vol. 279, 2 Jan. 1998 http://www.sciencemag.org/cgi/content...

Genetics, Vol. 172, Jan. 2006 http://www.genetics.org/cgi/content/f...

In the former, a single anomalous (and outdated) data point is being used. In the latter, the data doesn't support the mutation rate change Meldrum supposes.

For an update on the status of phylogeny-base mutation rates, take a look at: http://mbe.oxfordjournals.org/cgi/con...

And you'll see there are corrections needed and being made based on population flow dynamics. But they no where near support any of the wacky ideas meldrum proposes.
They're trying to confuse the picture by going off on a tangent. Here's a brief summary of how DNA is used:

1) We inherit our DNA from both our parents, roughly half from each.. BUT there are TWO major exceptions

2) Our Y-DNA (from father to son) is passed straight on, and is NOT diluted.

3) Our mt-DNA (from mother to BOTH sons and daughters) is also passed straight on and is NOT diluted eiher.

4) Both Y-DNA and mt-DNA are subject to occasional mutations which are passed on to descendants. These markers are used both to identify people descended from the same ancestor, and are also used to group people descended from a common ancestor. Based on the number of markers used you can go from the present (siblings) to tens of thousands of years ago (e.g back to mankind's common ancestors).

5) This is the basis of DNA genealogy. These sets of mutations are used to group sets of population that share them together. They are known as Haplogroups.

6) There's a set of Haplogroups for Y-DNA and another one for mt-DNA

7) Occasionally a new mutation will arise, on top of the ancestral ones, which will show that one group is descended from its parent group.

8) No matter how many thousands of years pass, or how many male descendants I have, they will ALL inherit my sets of Y-DNA markers (plus the occasional mutation), no matter where they live or who they marry and they will show as my descendants, just as my own Y-DNA can be traced back to my ancestors. Likewise with their mother's mt-DNA.

For instance my own Y-Haplogroup is "I1". This is a variant found mainly in Scandinavia. A slight variant "I2" is found mainly in part of the Balkans. Both groups are descended from the parent group which is "I", and is found mainly in Europe. In turn, "I" is descended from its parent group "IJ", etc., all the way back to "A" the ancestral group of ALL modern humans, back in Africa.

This how scientists for instance determine the peopling of the Americas. Based on their Y-DNA and mt-DNA the various native populations can be placed in certain haplogroups, and their distant ancestry traced back.

THIS CAN BE DONE FOR ANY INDIVIDUAL.

There is much more to it than can be covered here. A good place to start is to check "Haplogroup" somewhere like Wikipedia:

http://en.wikipedia.org/wiki/Haplogro... (scroll down to the section called Haplogroup population genetics and below for more info)

Either there is a conspiracy by nearly every DNA researcher, scientist, archeologist, paleo-linguist, most serious LDS academics, etc,, and they are ALL lying their teeth off, or else Mr Meldrum is wrong. I know which one is most likely.
I Just Went Through My Saved Stuff...

And though I did an extensive return-and-report last spring when Meldrum was promoting his video at the South Town Exhibition Center, I couldn't find a copy of it. Since I just stumbled in from a cab shift and a quick "Howdy" at the Exmormon Conference, I'll just shorthand some of this; I have no wish to engage in any personal attacks or ad hominems, but basically Rodney Meldrum's claims amount to such utter nonsense that most scholars would ignore them (as Wayne May's "Ancient American" is similarly disregarded) and suggest a few tinfoil hats would be in order if anyone gives thoughts to believing them.

BTW, if anyone archived my post, I would be grateful if the information was posted here...

Meldrum's video amounts to a selectively edited mix of legitimate scholars and others who represent the "diffusionist fringe" of archaeology. There are extensive claims of pre-Columbian Old World/New World contacts for which the evidence is sparse to non-extistent.

Moreover, there's a claim of a "Grand Conspiracy" that began with the Smithsonian in the 19th Century when the great Civil War Hero and explorer, John Wesley Powell, was named to head the Bureau of Ethnology. Powell's "co-conspirator" is identified as Lewis Henry Morgan, who headed the American Association for the Advancement of Science.

http://en.wikipedia.org/wiki/Lewis_H....
Lewis Henry Morgan (November 21, 1818 – December 17, 1881) was a pioneering American anthropologist and social theorist, and one of the greatest social scientists of the nineteenth century in the United States. He is best known for his work on kinship and social structure, his theories of social evolution, and his ethnography of the Iroquois. Due to his study of kinship, Morgan was an early proponent of the theory that the indigenous peoples of the Americas had migrated from Asia in ancient times.
At the root of Meldrum's claims is that Book of Mormon events took place in the Great Lakes area, and that the Hopewell Indians were part of the BOM people.

This contrasts with the "Limited Geography Theory" that has found favor among Mormon apologists and orginated with John L. Sorenson. Here's a piece of mine demonstrating Sorenson's utter lack of critical understanding on subjects of elementary science and resorting to sheer fantasy in stretching information to fit his beliefs.

http://www.exmormon.org/mormon/mormon606.htm

As I note, though, Meldrum's ideas are equally gonzo. The only potential genetic evidence in favor of a Hebrew/Native American connection rests with the "X Haplogroup" of mitochondrial DNA (which is passed on maternally). X is a very old lineage, found in Europe as well as in Siberia, among the Altai people. The sequences among the Altai are much more closely related to Native American mtDNA than the ones in Europe, which is overwhelming evidence that it arrived via the Beringia land bridge and not on a transoceanic voyage (an absurdity in and of itself in the days before the development of the maritime compass).

The conspiracy claim suggests that evidence of Native American's Hebrew ancestry was suppressed to provide "scientific justification" for "Manifest Destiny," which included the displacement of Native Americans from their ancestral lands and the resultant genocide.

Unfortunately, all of the "evidence" they point to has proven to be archaeological frauds that have been repeatedly debunked by legitimate scientists. These include the Kensington Runestone (claimed to be proof of Viking presence in Minnesota, never mind that the St. Lawrence river was unnavigable until modern times), the Bat Creek Stone, and the "Newark Holy Stones."

Here's a sample article describing the "Newark Holy Stones" as discussed by a legitimate archaeologist...

http://www.newarkadvocate.com/article...

Meldrum, who's a former used car salesman, insists that there's a controversy over their authenticity (see "Intelligent Design" and the "Wedge Approach" for another example the M.O.)

There is none, however, and as I recall, Meldrum (and May) also cite the "Michigan Relics" which were also recognized as frauds by none other than James Talmage.

http://www.mormonapologetics.org/topic/48151-the-michigan-relics/

Note that this one is from the "Mormon Apologetics and Discussion Board." Hey, even a stopped clock is right once in a while...

Finally, here's a link to a couple of posts Simon Southerton made that were archived in the Short Topics section. This one pretty much reviews the major issues...

http://www.exmormon.org/mormon/mormon534.htm

YAWN!
About a year ago Rodney Meldrum produced a DVD called "The Lost Civilizations of North America". In the DVD he includes interviews with a number of scientists to add credibility to his Heartland model.

One of the scientists he interviewed is so annoyed about the way their words were twisted that she just published a stinging criticism of the DVD and its producers.
"...the producers of the DVD, Barry McLerran and Rick Stout, interviewed researchers with expertise on North American archeology...at length. Then they skillfully edited the interviews to make it appear that we agreed with the film's thesis: that various artifacts shown in the film gave evidence supporting the Mormon story. The producers sent the scholars a rough version of the film in March 2010, provoking immediate e-mail demands for rectification of this misrepresentation. Two of the younger scholars contacted legal counsel at their universities about possible lawsuits, should the film be released with distortions of their interviews.

What especially disturbed the scholars was that the connection to the Mormon legend had not been disclosed; the producers had said the film would be about appreciating First Nations' achievements."

"The Lost Civilizations of North America DVD can be ignored since it misrepresents reputable interpretations of Midwest archaeological data–except, perhaps, by those interested in the persistence of pseudoarcheological claims about the cultures and peoples of North America before European colonization."
Meldrum is exposed as a complete fraud. He arranges numerous interviews with scientists on the pretense that he is celebrating the achievements of Native Americans, then slices and dices their words to advance his money making apologetics.

http://reports.ncse.com/index.php/rnc...
Meldrum is using this in his presentation to prove the Bat Creek Stone is real:

http://www.ampetrographic.com/files/BatCreekStone.pdf

It excited Glenn Beck anyway ...

None of this has been submitted to professional journals of science for scholarly peer review.

It is important to note that the man who found the Bat Creek stone knew how hoax artifacts could be made. Mr. Emmert was sent to Haywood County, North Carolina to expose a hoax. It was there he learned how to give hoax artifacts the appearance of age. This was before he "found" the Bat Creek Stone.

See the 12th Annual Report of the Bureau of Ethnology to the Smithsonian for 1890 to '91, page 347.

http://www.archive.org/details/annual...
"Mr. Emmert was sent into that region to procure, if possible, some specimens of this singular class of articles and to ascertain whether they were ancient or modern. After considerable difficulty he was entirely successful in his effort. He ascertained that these articles were made from the soapstone found in that region by some persons who had learned how to give them the appearance of age. This is done by placing them, after being carved, in running water which is tinctured with iron, as most of the streams in that region are. As a proof of the correctness of his statement Mr. Emmert had the same parties who stated they had made some articles for Mr. Valentine make quite a number of similar articles for the Bureau."
About the president of the company that "tested" the Bat Creek Stone:

http://en.wikipedia.org/wiki/Scott_F....

Scott F. Wolter (president of American Petrographic Services) is a Minnesota geologist and author most well known for his theories and books about the Kensington Rune Stone.

Wolter was hired in 2000 by the Runestone Museum to conduct a forensic geological investigation of the artifact. The Kensington Stone was brought to his company, American Petrographic Services in St. Paul, for the investigation. Using both transmitted and reflected light micorscopy, scanning electron microscopy and elemental analysis, he and his staff found mica degradation on the man-made surfaces. Wolter reported that his investigation clearly indicated the inscription had weathered at least 200 years after carving.[1] Wolter became intrigued with the Kensington Stone, and based on his geological findings and additional research, has become a dedicated supporter of its authenticity.

In his 2009 book The Hooked X Wolter claims that the stone was made by the Knight Templar in 1362, 50 years after the dissolution of the Knight Templar. He also claims Columbus was a member of the Knights of Christ order and had a map used to find his way around the West Indies in 1492.[2]
In 2010 Rodney Meldrum appeared in a DVD documentary "Lost Civilizations of North America" where he promoted his flawed X lineage theories. The documentary was produced by Mormons and is clearly intended to give scientific credibility to Meldrum's theories by including several short interviews with respected scientists who have studied North American Indian tribes. http://www.lostcivilizationdvd.com/

While Meldrum has succeeded in duping thousands of gullible (mostly retired) Mormons he has angered many of the scientists who were interviewed who were unaware that the documentary would twist their words to support his diffusionist claptrap.

Four scientists were so upset by the way they were portrayed in the DVD that they recently published a three part series of critiques of the DVD. The third in the series focusses on the DNA evidence and gives a comprehensive critique of Meldrum's X lineage claims. The scientists conclude that "there is no credible archaeological or genetic evidence to suggest that any Old World peoples migrated to the Americas after the initial incursion from Siberia prior to the tentative forays of the Norse beginning at around 1000 CE other than limited contacts between Siberia and the American arctic".

http://www.csicop.org/si/show/civiliz...
We were shopping at Costco on Saturday.

I saw an author there signing his pro-LDS book. This is not uncommon in Utah, you'll see many local TBMs trying to get into the LDS literature/garb market and make some cash. And, my grandma buys all of it, and gives it to me for Christmas.

Anyway, I noticed the book/dvd title, which was something like "Book of Mormon DNA Evidence." The books and DVDs had photographs of the Guatemalan ancient temples ruins.

I instantly felt my blood boiling. With all the DNA work that has been done on the native peoples of the Western Hemisphere, this guy has the nerve to sit and tell old ladies how there's DNA evidence of the BoM without there actually being any DNA evidence of the BoM.

I promise if my wife wasn't there this guy would have gotten an ear full. I would have shot so many holes in his little fake theory it wouldn't have a thread to stand on.

I might swing by Costco on my lunch break to see if I can have that opportunity again!
Case in point on the impropriety of Moplogetics: Rodney Meldrum is one of the more vocal proponents of the Heartland Model, and since 2003 has endeavored to convert others to his view of Book of Mormon geography. He's tried, I believe, to publish with FARSMS or MI or Mormon Studies or whatever the hell they're calling it these days, to no avail. His geography models contravene the traditional Central American models touted by DCP and his disciples (tours of which is a lucrative cottage industry for them).

http://en.fairmormon.org/Book_of_Morm...

Now, Meldrum may be a raving lunatic and he's joined his own church of the Heartland Model, but the way FAIR has attacked him is really shameful. The link above is just one of several articles ripping Meldrum. Pure ad hominem. This is Rodney Meldrum, a fellow Mormon who believes in the Book of Mormon! And FAIR is attacking him because they disagree with his model of Book of Mormon geography!

Mormon against Mormon. Titan against titan. Coke vs. Pepsi. BYU vs. Oral Roberts Univ.

This scripture is echoing through my grey matter right now as I contemplate the danger and childishness of ad hominem Mopologetics:

2 Nephi 9:28

".O the vainness, and the frailties, and the foolishness of men! When they are learned they think they are wise, and they hearken not unto the counsel of God, for they set it aside, supposing they know of themselves, where, their wisdom is foolishness and it profiteth them not..."
I was at Costco a couple days ago and ran into something that really surprised me greatly.

Rodney Meldrum has written a nice, glossy book on his heartland Book of Mormon geography model. And it's being sold in Costco down here in at least the Mormondom part of Arizona.

I'm betting Costco isn't carrying Louis Midgely's 1968 book, or any of the things Daniel C. Peterson has written. I wonder if it bugs them that Meldrum's theory is being sold in a nicely crafted full-color book at Costco?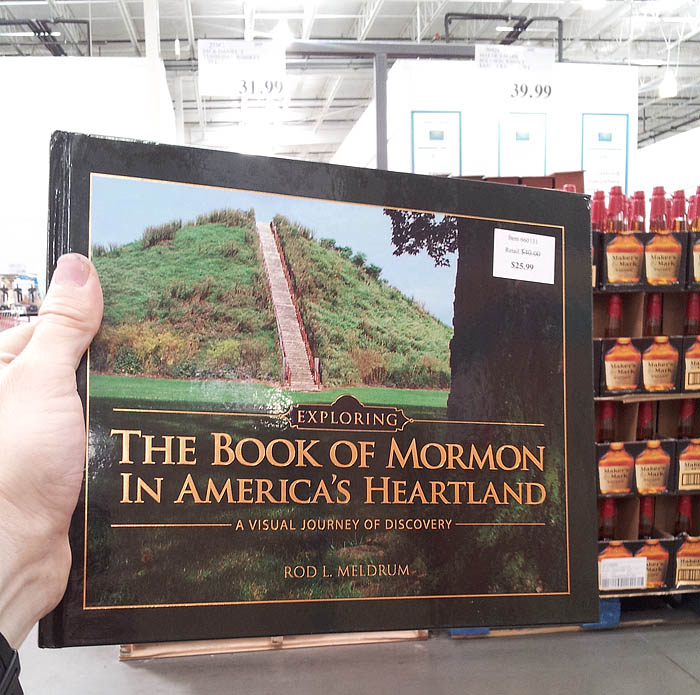 Rodney Meldrum's Heartland crowd are capitalising on the shambles that Mesoamerican apologists currently find themselves in. Meldrum has built his entire Heartland movement on his conviction that Native American X lineages are derived from Israel. He also claims the X lineage is specifically linked to Jewish populations and absent in Asian populations. None of these claims is true.

Given that the Heartland theory is now arguably the most widely accepted apologetic position held by Mormons, I felt it would be worthwhile taking a closer look. I've been working on three posts dealing with the X lineage DNA claims of Rodney Meldrum. I have just posted the first two and would welcome any suggestions for improving them.

Post I. Meldrum's X lineage: THE GOOD http://simonsoutherton.blogspot.com.a... In the first post I introduce some of the key scientist who have researched the X lineage and summarise the X lineage research.

Post II. Meldrum's X lineage: THE BAD http://simonsoutherton.blogspot.com.a... In the second post I review Rodney Meldrum's Creationist agenda, how this impacts his interpretation of the science and his "creative' use of evidence in support of his Heartland movement.

Post III. Meldrum's X lineage: THE UGLY (under construction) In the third post I will look at the controversy Rodney Meldrum has sparked in apologetic circles and among the scientists whose data he has misused.
I've finally found the energy to finish the final instalment of my examination of the fraudulent DNA X claims of Rodney Meldrum. In the last post on my blog I take a look at the questionable sales techniques that he has used and the hatred this has caused between him and the Mesoamerican apologists. I hope some find it helpful.

Post III. Meldrum's X lineage: THE UGLY

In the final post I look at the controversy Rodney Meldrum has sparked in apologetic circles and the questionable way he is selling his ideas.

http://simonsoutherton.blogspot.com.a...

Post I. Meldrum's X lineage: THE GOOD

In the first post I introduce some of the key scientist who have researched the X lineage and summarise the X lineage research.

http://simonsoutherton.blogspot.com.a...

Post II. Meldrum's X lineage: THE BAD

In the second post I review Rodney Meldrum's Creationist agenda, how this impacts his interpretation of the science and his "creative' use of evidence in support of his Heartland movement.

http://simonsoutherton.blogspot.com.a...

I've followed Meldrum's career for the last decade. He is essentially a charlatan. He is reckless with the evidence he uses, he ignores facts that contradict his views and he is completely blinded by his fixed anti-evolution, young-earth creationist mindset. He is now in the business of swindling gullible Mormons out of their money by exploiting their earnest desire for evidence to prop up their faith. If Meldrum was to retreat from his fraudulent X lineage claims he would be biting the hand that feeds him. The Meldrum show will go on because it must go on.
Rodney Meldrum has enlisted a guy named Jake Hilton to spread the Heartland message to the youth. I commented on one of Jakes's posts about a recent paper on Native American DNA. The paper was co-authored by 18 scientists including 2 Mormons. This is Jake's response. Not surprisingly, Meldrum and Hilton have no scientific qualifications.

If you have the stomach and energy, please comment on the crazy stuff on the Mormon Evidence Facebook page. He's getting too many positive messages from the blind.

See: https://www.facebook.com/MormonEvidence

Quote:
All those scientists, including the two Mormon ones, are wrong. And why are they wrong? Because of their belief in the theory of evolution. They continue to use theory-based dating, assuming that there was a human/chimp split roughly 200,000 years ago (when they weren't there and didn't observe it happen). This 'split' is nothing but their assumption, based entirely on an idea that is simply false. The entire theory of evolution is false.

It is the scriptures that are true. The Bible and the Book of Mormon need to be our absolute authority. They are God's inspired Word to man, given as instruction and law to teach us, guide us, and lead us back to our Father in Heaven. The truths they teach are infallible, unalterable and timeless. Through His chosen prophets, God has declared that He created the world and all things in it, that He created our father Adam, who was the first man of all men. The Word teaches us that it was Adam that brought death into the world through his sin, and that since the Fall, only 6,000 or so years have passed.

6,000 years. Not 15,000 years. Not 200,000 years. And certainly not 4.56 billion years.

This has been proven by using reality-based dating methods of the DNA. "Mitochondrial Eve," the one woman all human beings descend from, lived only 6,000 years ago (Gibbons, A. 1998. Calibrating the Mitochondrial Clock. Science. 279 (5347):28-29)--confirming God's Word as being the truth. I do not care what the ungodly, atheistic philosophers and scientists say how old the world is or when Haplogroup X2 DNA entered the Americas. They're wrong.

I also do not care if all the world combines against me, the truth is still the truth. Majority opinion never has nor never will dictate what is real truth. As Mahatma Gandhi said: "An error does not become truth by reason of multiplied propagation, nor does truth become error because nobody will see it. ... Even if you are in a minority of one, the truth is still the truth."

Evolution is not science--meaning what can be tested and observed and demonstrated. It is a belief. It is based entirely on faith. People choose to believe in it because they love removing God from their lives, and with Him the knowledge that they will one day be held accountable to their Maker for the wicked choices they've made and the perverse lives they've lived. But we have the truth. All will stand before God to be judged, whether you believe in Him or not.
---
How to navigate:
Click the subject below to go directly to the article.
Click the blue arrow on the article to return to the top.
Right-Click and copy the "-Guid-" (the Link Location URL) for a direct link to the page and article.
Archived Blogs:
Articles posted here are © by their respective owners when designated.

Website © 2005-2021

Compiled With: Caligra 1.119



HOSTED BY