THE MORMON CURTAIN
Containing 5,709 Articles Spanning 365 Topics
Ex-Mormon News, Stories And Recovery
Archives From 2005 thru 2014
PLEASE NOTE: If you have reached this page from an outside source such as an Internet Search or forum referral, please note that this page (the one you just landed on) is an archive containing articles on "COMEDY - SECTION 5". This website, The Mormon Curtain - is a website that blogs the Ex-Mormon world. You can read The Mormon Curtain FAQ to understand the purpose of this website.

⇒ CLICK HERE to visit the main page of The Mormon Curtain.
COMEDY - SECTION 5
Total Articles: 37
Great selection of Ex-Mormon comedy.
DRAPER, UTAH (UPI) Just two days after "Birthers" were stung by releasing a clumsy forgery they believed was the Kenyan birth certificate of President Barak Obama, a famous document expert in Utah has declared that he has the certified, correct, document.

Surprisingly, the expert claims the document shows that Obama was born in upstate New York, not Hawaii or Kenya.

Mark Hoffman, a life-long resident of Utah and an aknowledged expert on documents and forgeries told Redstate.com that he has acquired the original document, and can prove it's authenticity. "It's here, in it's entirety" Hoffman posted on the conservative website. "And I will make it public, or rather it's new owner can make it public, for the small price of $250,001."

Asked by Redstate bloggers why he was asking for the extra dollar over a quarter of a million, Hoffman replied that would be the best bid he has recieved thus far.

"I've already got a quarter mil from Dallin C. Oaks" he wrote. "But I'd like to sell a document to somebody else this time."
Rexburg, Idaho -- Speaking to students at Brigham Young University, Idaho, LDS church president Thomas S. Monson emphasized the need for modesty and spiritual cleanliness, two virtues he said had nearly been lost in today's so-called modern world.

Citing the poet A. Egbert Doggerel, Monson stated, "Truer words were never spoken than these:

"It matters not if I'm hale and keen If my heart and soul remain unclean!"

The prophet spoke of his dismay at lax dress standards among some members of the church. "I am certain that our dear Heavenly Father looks down upon his children with perhaps a glint of tear in His eye, as He sees so many disregarding the prophetic counsel against slovenly and immodest dress."

He reminded those in attendance of the inspired counsel of President Gordon B. Hinckley in pleading with the fair daughters of Zion to display only one earring on each ear. "Somwhere in the heavens, President Hinckley is smiling in the knowledge that so many have taken his words to heart." But, President Monson intoned gravely, "There is much room for improvement, particularly among you priesthood holders. Are you living up to the Oath and Covenant of the priesthood? Are you conducting yourself with the modesty and dignity that befits someone with your holy calling?"

He then spoke of a troubling trend among the brethren of the church. "I have spent many nights on my knees, praying for guidance as to how I can help the brethren overcome a serious problem. I speak, of course, of the unkempt and often askew collars of our dress shirts. Many are the times when I've sat on the stand in a priesthood meeting and found my spirit troubled by crooked collars. Often the collar doesn't even cover the tie wrapped around the neck. And, difficult as it may be to believe, some brethren cannot even be troubled to button the top button of their shirts. Surely the Spirit is grieved when the brethren of the Holy Priesthood take such a casual attitude toward their responsibilities."

The prophet spoke of the great promise in the Book of Revelation: "He that overcometh, the same shall be clothed in white raiment; and I will not blot out his name out of the book of life, but I will confess his name before my Father, and before his angels" (Rev. 3:5). "Brethren, do you imagine that you will be able to stand in the presence of the Lord with a crooked collar or slovenly tie?"

In His wisdom, the prophet said, the Lord has provided a way for His sons to reach their full potential: tab collars. "It is but a small thing the Lord requires: merely two buttons, one on each side of the collar. Keeping the tabs buttoned will ensure that you are neat and clean both inwardly and outwardly. My beloved brethren, I plead with all the force of a loving heart that you will return to your homes and make immediate and prayerful changes to your wardrobe."

President Monson said that he had been inspired by a visit to a ward in McDermott, Nevada. "Here were the brethren arrayed as mighty warriors, all with tab collars, all neat and inspiring. Hearts were gladdened, spirits were lifted, and collars straightened."

Student reaction was immediate. "I went home and threw out all my old, unworthy white shirts," said Gareth Jensen, a junior from Tempe, Arizona. "I have decided to choose the right, and if that means buying tab collared shirts, I will not shirk."

Tyler Roarke of Redding, California, expressed his desire to follow the prophet with "exactness": "The prophet said we should get tabs on either side of the collar, but when I got my new shirts home, I noticed they had a third button in the back of the collar. I'm a little worried that I may be looking beyond the mark."

Apostle David Bednar hailed the response of the students. "These young men and women know what is important in life, and they are a shining example to the world. One young woman I spoke with broke off her engagement because the young man said he didn't know what the big deal was about tab collars. I'm sure she will be glad for the eternities that she saw the true measure of his faithfulness before she became unequally yoked with him."
1. Adam gave all the animals their names. If you think about it, this makes perfect sense. But for Adam's creativity, we might be calling an elephant a "phmmph" or the puffer fish "that scaley spikey thingy" or chimpanzees "those turd-throwing meanies."

2. Adam and Eve became aware of their nakedness only after eating a certain fruit. For many people, three glasses of wine has a similar effect. Coincidence? I think not. Wine is made from fruit. Both fruit and wine are filled with antioxidants. Adam and Eve ate the Fruit of the Tree of Knowledge and found out they were naked. Wine makes me really smart and can lead to nakedness.

3. God made coats of skins for Adam and Eve after they discovered their nakedness. It makes sense that God will kill a couple of the animals He had just created, tan their hides, and sew outfits for His naughty naked kids. Think about it. That's what parents do.

4. It has been documented that, similar to many men in modern times, at least one man in the Old Testament had a talking ass.

5. God let Satan tempt Job because he was a really good man. So Satan killed Job's family, destroyed his property, covered him with putrid boils, and made his life hell. I love that story. It makes me want to be good like Job.

6. That guy who tried to steady the ark got what was coming to him. Sure he had good intentions, but God doesn't care about those. That God. He's Something Else. Try to help God and you die. F*** that.

7. Bears eat children who mock prophets. That's why I didn't mock any prophets until I was over the age of 18.
SALT LAKE CITY (UPI) According to LDS spokesman T. LaVerkin Smoot, mormon missionaries in the midwest and even overseas saw a marked improvement in "first discussion" presentations on Labor Day, less than 36 hours after BYU's shocking upset of the #3 Oklahoma Sooner football team on Saturday night.

The game was telecast on ESPN to a worldwide audience.

Investingating non-members listened to almost three times more presentations by church missionaries, who are estimated to number more than 50,000 worldwide. Further, according to Smoot, those investigators listened, on average, three times longer to the presentaion than had been experienced in the previous 24 months of tracking data.

"Missionaries taught 17 families on Monday alone" Smoot beamed "and those investigators listened for an average of 3.2 minutes each. This proves that BYU truly is a missionary tool of the one true church and that the work moves forward."

Smoot also stated that the general authorities were happy that the game did not go into overtime and that all players were back in the team hotel well before the sabbath began just after midnight CDT.
SALT LAKE CITY (UPI) The LDS church has sent out an urgent request to all of its estimated 13.5 million members to donate non-perishable food items to the church. These items will be distrubuted to tsuanmi victims in Samoa, Tonga and the Phillipine Islands.

In the past, the LDS church has held such relief items in storage. Due to the worldwide economic slump and some lost investment revenue, the church has run low on many of these items.

"What with the big mall we are building, and a few of our investments tanking, the brethren made the prayerful decision to sell off all of our canned corn and tomatoes this harvest season" spokesman T. LaVerkin Smoot told reporters. "Also the bishop's storehouse program has been hit very hard in the past 12 months by a very large number of church investigators."

Smoot added that the brethren felt thay did "pretty well" when they sold off the harvest from the church's massive welfare farm program. "It helped us keep the mall financing intact, at least" he added.

"So we issue this call to the faithful to bring at least 5 cans of food to Temple Square this weekend during general conference. Time is of the essence, since we have a big press conference scheduled for Tuesday morning and we will need many, many crates of foodstuffs as a backdrop for the visuals."

In closing, Smoot added that the church will not be accepting any old clothes or used board games this time around.
News Flash: LDS Church Leaders Announce Major Update To 13 Articles Of Faith
Wednesday, Oct 7, 2009, at 08:11 AM
Original Author(s): Deconstructor
Topic: COMEDY - SECTION 5 -Link To MC Article-
↑
For those who missed conference today, here are the new updated Articles of Faith the church just announced. Share with friends who missed conference!

13 ARTICLES OF LDS FAITH

1. We believe in Joseph Smith. We also believe in God the Eternal Father, and in His Son, Jesus Christ, and in the Holy Ghost. We believe that these gods were once men, and that you too can become your own god, even though our Prophet, Seer and Revelator denied it on national TV.

2. We believe that men will be punished for their own sins, such as murdering or drinking tea, and not for Adam's transgression, unless you were a Negro and died before 1978, in which case you were punished and cursed for the sins of Cain, or for what you did in the pre-existence.

3. We believe that through the atonement of Christ, all mankind may be saved, by obedience to the laws and ordinances of the Gospel, especially tithing and the word of wisdom. However, we do not believe that Christ's sacrifice should be discussed on Easter, as this is a more appropriate time to contemplate the martyr of Joseph Smith, our Prophet, Seer and Savior.

4. We believe that the first principles and ordinances of the Gospel are: first, Faith in Joseph Smith; second, Faith in the current version of the Book of Mormon; third, Payment of tithing for the remission of sins; fourth, Repentance for not paying tithing (but only if you catch up); fifth, Blind obedience to the current prophet and to your husband, if you are a woman; sixth, Faith in the Lord Jesus Christ; seventh, Baptism by complete, total, absolute immersion, in the waters, which, by the way, have been cursed, for the remission of sins; eighth, Laying on of hands for the gift of the Holy Ghost.

5. We believe that a man must be called of God, by prophecy, and by the laying on of hands by those who are in authority to collect tithing, to preach the Gospel and administer in the ordinances thereof. We also believe that if any man behaves as if he was not called by God, then it is appropriate to state that the Church is perfect, it is just the people who are flawed.

6. We believe in the same organization that existed in the Primitive Church, namely, apostles, prophets, pastors, teachers, evangelists, moneychangers in the temple, Young Men/Womens leaders, Relief Society Presidents, Stake Mission Presidents, Young Single Adults Group Leaders, Elders Quorum Presidents, First Counselor to the President and so forth. We also believe that the primitive name for the Christ's church was "Corporation of the President" and was heavily involved in commercial real-estate and stock speculation. Although women held priesthood and administrative offices in Christ's Primitive Church, women do not now and never will again.

7. We believe in the gift of tongues, prophecy, revelation, visions, faith-healing, interpretation of tongues, tearing out of tongues when you divulge endowment secrets, tithing, investments, media manipulation, political interference, compound interest and good public relations, for we are striving to become a universal "World" church.

8. We believe the Bible to be the word of God as far as it is translated correctly (we reserve the right to decide which verses are translated correctly and which are not); we also believe the Book of Mormon to be the word of God, especially now that we have amended it to harmonize with modern doctrinal alterations. We are currently undecided as to the divine origin of the Book of Abraham, however.

9. We believe in much of what God used to reveal, and we believe that if He yet reveals further things to us, that our Church President or Glenn Beck will tell us.

10. We believe in the literal gathering of Israel and in the restoration of the Ten Tribes; that Zion (the New Jerusalem) will be built upon the American continent or the Middle East; that Christ will reign personally upon the earth; and, that the earth will be renewed and receive its paradisaical glory. We also believe that our blood may be miraculously changed to that of the Tribe of Ephraim.

11. We claim the privilege of worshiping Almighty God according to the dictates of our own conscience as dictated by the President of the Church, and allow all straight men the same privilege, let them worship however incorrectly, wherever wrongly, or whatever idolatrous beings they may, since Protestant ministers are hirelings of Satan. When we can, we deny Gays the right to live their lives as they choose, especially in California and Utah.

12. We believe in being subject to kings, queens, admirals, judges, federal agencies, revenue officials, and in obeying, honoring and sustaining civil, maritime, de facto laws. In fact, we believe in following all national and international governments, because God will not hold us responsible for doing wrong if someone else tells us to do it. That's why we Mormons make such good CIA employees and conservative lawyers.

13. We believe in rich lawyers and doctors, short hair, tall buildings, church-owned malls, dark blue suits, white shirts, magic underwear, financial prosperity and an affluent public image. In fact, if there is anything praiseworthy or newsworthy, which will make good report, we seek after these things. Conversely, if there is any material from our past which could generate controversy, we will seek it out, purchase it, conceal it, deny it and excommunicate anyone who even dares to mention it.
Last night in bishopric meeting the subject turned to General Conference. Our second counselor suddenly got very excited and said, "Hey! Did you guys hear Elder Holland's talk? Man was he fired up!"

To which our first counselor replied, "Oh boy, he sure was! I can't believe he actually called out people by name!"

He was, of course, referring to Solomon Spalding and Ethan Smith.

Our first counselor continued, "Man I would hate to be those guys! They must have been quaking in their boots to hear their names called out in General Conference like that!"

At this point our bishop chimed in, "You're not kidding! Those guys are going to have to repent!"

Second counselor: "Yeah, I don't know who those guys are but can you imagine sitting there listening to conference and hearing your name called out like that?"

First counselor: "I don't think I've ever heard an apostle in General Conference single anyone out like that. They must have done something really bad!"

At this point everyone began talking simultaneously, speculating on what was going to happen to those guys.

Then the executive secretary paused and said, "Hey wait a minute, I'm not sure but I think one of those guys might be historical." Unfortunately, no one but me heard him because they were all talking too loudly.

I began to respond to the secretary's comment but quickly stopped myself so as not to spoil the great fun they were all having.

I really like our bishopric meetings.
An excerpt from a recent write-up on H. Farber Jensen, the internationally recognized Shiz expert:

Meet H. Farber Jensen, the internationally acclaimed expert on the Book of Mormon and Shiz Studies.

It's important for as many people as possible to be aware of this rising star in the field of Shiz Studies, a little-known academic branch of Book of Mormon Studies, dedicated to fostering deeper understanding of the pivotal role that Shiz played in the Book of Mormon narrative.

H. Farber Jensen is an internationally acclaimed Shiz expert and is the director of RANCHES (Really Arcane Nugatory Church History and Esoteric Studies).

Read some of the acclaim:

"H. Farber Jensen really knows his Shiz!" - Lord Fauntleroy, Chairman of the Royal Society of Shizmania

"Who is full of Shiz, uh, you know, who is full of an amazing amount of Shiz knowledge? Horatio Farber Jensen, that's who." - Reginald D. Ruggers, Editor of the World of Archaeology and Deep Shiz Excavation Review.

"You can't step into any Shiz debate without finding H. Farber Jensen right in the middle." - Dirk Demone, Director of FIELDSS (Foundation of Intelligently Enigmatic Latter-Day Saint Scholars)

"I am always amazed at all the little piles of Shiz research papers scattered around Brother Jensen's home. Sometimes when I visit I find myself standing up to my waist in piles of his Shiz research." - G. Hinckley, best-selling author of "Standing in Something"

"If it looks like Shiz, smells like Shiz and tastes like Shiz, H. Farber Jensen is on top of it." - Grant N. Funk, friend of H. Farber Jensen

Some excerpts from "You Don't Know Shiz!" Jensen's latest book:

"When people talk Shiz to me, I talk Shiz right back at them." (from the preface)

"I love seeing the light go on in a young scholar's eyes when I tell them of the tenderness that Coriantumr showed to Shiz in Shiz's last moment of life. While the body of Shiz was struggling to get up, the head of Shiz has already rolled to a stop at the feet of Coriantumr. As the life force seeped out of the Shiz head, Shiz could only think of one thing. He wanted to taste one last biscuit. Looking up at Coriantumr, he weakly pleaded, 'I sure would like to eat a biscuit before I die. Do you have a biscuit?' Suddenly filled with compassion for his fallen foe, Coriantumr pulled his last biscuit out of his fanny pack and gently pressed it to Shiz's lips, softly speaking the unforgettable words, 'Eat, Shiz, and die!' Whereupon Shiz did eat and Shiz did die." (from page 43)

My Testimony:

I would like to recommend "You Don't Know Shiz" to everyone here. It is inspiring and thought provoking. After reading it you will never be able to look at Shiz the same way again. Your heart and mind will be full of Shiz.
And it came to pass that lo and behold, mo-pologists, apologists and pretzel logicians spread and duplicated themselves across the land eastward from Utah Lake, northward to the Great Salt Lake, yea, even to the land Bountiful, and soutward to the Land of Payson, covering the land like unto a flock of Mormon crickets, encouraged by The Brethren at 50 East South Temple explain the unexplainable and mystify the mundane mantras of Mo-dum, and divert the pestilence of honest inquiring minds of the faithful, yea, becoming so numerous that they began to call themselves, Nibleyites, Petersonsite, Meldrumites, Sorensonites, Midgelyites, Trilobites and Stalagmites, and behold they did gather at annual conferences to argue amongst themselves regarding a narrow neck of land, yea even to the point of becoming stiff-necked themselves, thus denying the teaching of the modern day prophets such as Spencer Kimball, Brigham Young and Joseph Fielding Smith, and ignoring Gordon B. Hinckley and Thomas S. Monson because these prophets had no teahings regarding the principal ancestors of the people of the Book of Mormon.

BYU Buddie Studie - Cogntivie Dissonance - Volume 2,395 page 2,675 paragraph 279a
It will cost you a lot of money, but it is worth it according to the manufacturer's salesman Joe Smith. The manufacturer guarantees that it will help you see visions of the future, have random things happen to you that will bring you luck as well as help you find your car keys when they get lost.

But wait, there's more. It has a feature called The Liahoninonya that actually helps you discern when people aren't being straight with you or if there is some impending bad luck headed your way.

But wait, there's more. It has another feature called The Celestial Sealer which guarantees that all of your family can share this device sort of like a family cell phone plan.

But wait, there's more. It includes access to an oracle of all knowledge called "The Prophet" who you can read or listen to and if you follow will never let you down like so many people have in your life.

But wait, there's more. Another feature of The Kolobatron is it provides you a security pass to get into some really ritzy retreats where you dress up all in white and watch movies, hang out in cool lobbies and learn all sorts of secret mysteries of The Universe.

But wait, there's more. If you are a man or boy The Kolobatron contains an extra mode where if you wear a white shirt and tie, you can cure cancer and all other sorts of human health problems.

But wait, there's more. All users of The Kolobatron get free bread and water on Sundays.

And friends, if you are having problems with people who don't have a Kolobatron rest assured that they are just jealous or didn't use it properly according to the many guide books provided for its use. If you have any problems with your Kolobatron you can rely on a huge network of owners who can give you all sorts of tricks and techniques to use yours to the fullest.

So, call now and we will send a couple of representatives right away to get you started using your new Kolobatron today!

I know this magical mystery machine works and is the best thing ever to come to humanity. I just know the manufacturer wouldn't have produced it if it wasn't because the manufacturer is Jehovah Christ Reserve Inc.

Jesus knows how to make a fantasy come true for me and He will do the same for you!
Although it's a couple of years old, it's still relevant:

The LDS church announced today a new program granting emeritus status to members who fall outside of traditional activity.

"As the church continues to grow at a fast pace, many of its members find themselves unable to maintain church activity for a variety of reasons," said spokesman Dan LeFevered. "Always sensitive to the needs of the members, the brethren have fasted and prayed for guidance and have been inspired to grant these nontraditional members 'emeritus' status."

Currently, statistics are kept on those who do not attend a church meeting in a given quarter. From this point on, LeFevered explained, members who do not attend a meeting in a given quarter will be termed "members emeritus."

Emeritus members will be counted as members in the annual statistical report, but they will not be counted towards activity rates.

"Isn't it marvelous?" said church president Thomas S. Monson in a written statement. "Instantly we have the highest activity rate of any religion in the world: 100%."

LeFevered explained that activity rates will be calculated from members who attend a meeting at least once quarterly, so in effect, all who are counted are considered active. And those who do not attend are considered "emeritus" and will not count.

When asked about those who resign their membership in the church, LeFevered responded, "We don't think there's a need for that drastic a step. Rather than go through the difficult process of writing a letter, members can simply choose to grant themselves emeritus status."

LeFevered went on to say that the new program is retroactive to the beginning of the church. "We have sent out millions of letters to former members notifying them of the change to their status."

Fred Pecker, professional anti-Mormon, reached by phone in Washington State, expressed outrage intially at the new policy. "Yeah, I got my letter welcoming me back into the kingdom. But I've been thinking about it. Maybe it's time for me to come back, anyway. I'm going to call my bishop today."

LeFevered explained that the new status would also take the place of disciplinary councils, which had been taking up too much of church leaders' time. "It's much easier for a stake president to click an 'emeritus' button on a computer than it is to convene a high council to try a case."

He went on to say that leaders have wide discretion as to how to use emeritus status. "It could be for serious transgression, or it could just be to rein in people who are, you know, a little off."

Food Sciences professor and FARMS contributor Daniel Midgley-Welch explained that this system has its roots in the Mosaic practice of counting membership by tribe and family, such that no one was left out. "We even see echoes of this in the census that played a prominent role in the Savior's birth in Nazareth."

Midgley-Welch expressed bewilderment that he and the entire staff at FARMS have received letters from the First Presidency granting them emeritus status. "Maybe they think we need more time to research the gospel. That's just like the brethren, always thinking of us."

"Yeah, sure, if that's how they want to look at it," said LeFevered.
10. A Mormon working in the basement of the Church Office Building's computer department invented the Internet in the early 1990's.

9. The virtual endowment started in 2035 with invention of the iPhone 10G when the average age of Mormon baby boomers reached 100 years and they were to physically frail to attend the temple.

8. 2025 - The LDS General Conference sessions merged with the American Association of Retired Persons AARP to fill those embarrassingly empty seats in the Conference Center, converting thousands of people with dementia who did not know any better, reminiscent of the mass conversions of English immigrants in the 1800's.

7. 2037 - Mormon physicist Philo Nephi Farnsworthy working the CERN accelerator in Switzerland miraculously warps self through worm hole to Kolob and back thus confirming the existence of Elohim.

6. 2015 - Tweeting the names Holocaust victims directly to temple baptismal fonts increases proxy production and prevents Jewish watchdogs from discovering the practice.

5. 2014 - Installation of GPS devices into the craniums of Mormon missionaries allows church headquarters to ensure the "No Companion Left Alone" policy which BYU had inspired with their "No Student Left Behind in the Pac Ten" program.

4. 2013 - Mormon Prophet Boyd K Packer at age 96 joins Facebook in an attempt to secure friends - only brown nosing GA wannabee Glen Beck signs on as friend.

3. 2012 - Mormon Apostle and prior Utah Supreme Court Justice Dallin H Oaks joins Legal Zoom dot com in an effort to convert Robert Shapiro to Mormonism since Shapiro was naive enough to believe O. J. Simpson was NOT guilty.

2. 2012 - Thomas S Monson drafts Sarah Palin to become the First Lady of the Relief Society ensuring her that this is a secure step on her way to the Presidency of United States.

1. 2011 - Jeffrey Holland appears on the Dave Letterman show with his own top ten ways to crawl over, under and around a five ton replica of the Book of Mormon.
As you may have read, Deseret Book is releasing "To the Rescue: The Biography of Thomas S. Monson." Sources have confirmed that several titles were considered before the decision was made:

10. Fake It Till You Make It
9. Bad Poetry and Parakeets
8. No Widow Left Behind
7. The Passive Triplet and Other Ways to Treat Your Audience Like Preschoolers
6. My Dinner With Honecker
5. From Apostle to Prophet: The Professional Life of Thomas Monson
4. Son of Obituary: What I've Learned from Attending Funerals
3. I Forbid You! Casting Out Doubt, Reason, and So-called Science in an Age of Uncertainty
2. My Kingdom for a Mall
1. Too Busy Doing Good Works to Draw Attention to Myself
"From 'Dirty Sex' to 'Delicious Chocolatey Candy With or Without Nuts': The Making of a Mormon Curse Word."

"Over or Under? The Mormon Woman's Bra Conundrum."

"'I Don't Think We Teach That' and Other Memos I Missed but Learned About on 'Larry King Live.'"

"Drink the KoolAid On Your Own Terms. All We Really Care About is Your 10%."

"Futile Pursuit: Losing My Identity to Become the Wife and Mother the Lord Wants Me to Be."

"To Make Your Man Happy or Teach Pigs to Fly? And Other Hobson's Choices of Mormonism."

"'Hey Joe, Pick Me. I Have a Vagina.' And Other Lessons Learned from Polygamy."

"Jesus Said Love Everyone. ***snort!!!***"

"Righteous and Passive Aggressive: Promoting Your Faith While Knifing You in the Back."

"Masters of Mainstreaming: How 'Abominable Perverts' Became 'People With Civil Rights, Too!' (If You Can't Beat 'em, Join 'em)."

"I Have No Life: The Making of a Relief Society Handout that Will Really Impress the Sisters While Increasing Their Feelings of Inadequacy."

"God's Penis or Joseph's Myth? Six Centimeters in One, Half a Dozen Centimeters in the Other."
Kolob Kruises! Join us as we hie to Kolob, closest rock to God...

Join us as we hie to Kolob, closest rock to God. Your comfort aboard our Kolob Kruisers is of the utmost importance to us, so let us know how we can make your voyage both comfortable and meaningful.

Entertainment aboard your Kolob Kruiser will include reruns of the Donny and Marie Show, Johnny Lingo, and Dancing With the Stars episodes featuring a very special doll dance by Marie Osmond (she makes dolls, you know.)

For your listening pleasure you'll have your choice of The Mormon Tabernacle Choir, Gladys Knight's "One Voice", or the Primary children from Kolob 2573rd ward droning on about Following the Prophet.

Snacks en route will be your favorite flavors of jello, with Cheerios for the little ones.

Dinner is included in the fare and features creamy funeral potatoes, sliced ham, and jello salad embedded with grated carrots, cooked ground beef and chunked pineapple.

During a two hour layover on the moon you will have the option to disembark and gawk at the 6 ft. tall, 1000 year old Moon Quakers.

Come with us! Enjoy the ride!

After touching down on this planet closest to where God resides, you'll want to rest and refresh yourselves for the busy week ahead. We'll shuttle you up Deseret Drive to Cumorah Crest where you'll find your lodgings in tree-lined Liahona Lane. The beautiful Hearth and Home Bed and Breakfast is run by the sister-wives of Zoram. Cost per night is three senums which includes your room and a sumptuous breakfast in the morning.

You'll find plenty to do on Kolob. Ride along the lovely mountain ridges astride a wooly curelom. Your guide, Mahonri Moriancumer (a large and mighty man), will point out famous landmarks such as the stately summer homes of several of Heavenly Father's plethora of wives.

Afternoons are always warm on this planet so you'll want to don your Kolob skivvies for a dip in the beautiful blue waters of Sebus. The brightness from God's residence keeps the sparkling waters at a constant temperature of 87 degrees F.

After your swim, hie on over to Celestiavilla, the dwelling place of the whitest and most delightsome of Kolob folk. You'll find only the best of neighborhoods on Kolob, for dark and loathsome is prohibited. On your journey there, you'll also note that Kolobians are perpetually young since there is no end to youth on Kolob.

You'll not want for good food while on your travels there. Be sure to visit Kolob Bakery and enjoy the Necro-Dunkin' Donuts! These delectable delights are deep fried in a huge vat of oil which rests on the backs of 12 oxen carved from authentic olive wood from the Holy Land on planet Earth. You can also visit the bakery's gift shop where you can purchase a special signature Baker's Hat, complete with bow. Receive a 10% discount with the super secret handshake.

At the 3 Nephites Grill you'll enjoy grilled cumom along with deep fried manna drizzled with honey taken from a nearby deseret hive. Poultry skewered with iron rods roast to a delicious-doneness as they rotate slowly on the hand-turned spit. The price of these hearty meals ranges from 1 ½ shiblons to 1 ezrom depending on how hungry you are.

Be sure to step into Zelph's Bar where Zelph will personally serve you his out-of-this-world Pay Lay Ale as he tells you tales of life as a white and delightsome Lamanite on earth. After a night at Zelph's you may want to stop off at Laban's Head where, for a small fee of one shiblum, you can use the facilities.

Your return to earth will be through the unique Mormon time machine. Since one day in Kolob is equal to a thousand years on earth, you'll be returned to earth a mere week after you left through the special process of exmosis through the time machine.

But wait! Before leaving the planet, swing by the ever-popular Kolob Kool-Aid stand. Go ahead! Drink the Kool-Aid!

(Feel free to add what you'd like to see or experience on your Kolob Kriuse!)

(Copyright 2010) Tahoe Girl
On my first Utah Christmas my true love gave to me
popcorn poppin on the Apricot tree
On my second Utah Christmas my true love gave to me
Two years on a mission and the Smart family on TV
On my third Utah Christmas my true love gave to me
Three degrees of glory
Two years in Australia
And a first amedment controversy
On my fourth Utah Christmas my true love gave to me
4-A high school roundball
Three Sunday meetings
Two years in Korea
And that business with the SLOC
On my fifth Utah Christmas my true love gave to me
Five-quart ice creams
Four firing squads
Two years in Peru
And a movie thats G or PG
On my sixth Utah Christmas my true love gave to me
Six kids and counting
Five years of drought
Four qulting bees
Three meth labs
Two years in Japan
And a reservoir thats almost empty
On my seventh Utah Christmas my true love gave to me
Seven singing Osmonds
Six kids and counting
Five Tom Green wives
Forbidden love
Three spudnuts
Two years in Brazil
And a single poli-tickle party
On my eighth Utah Christmas my true love gave to me
Eight cups of Postem
Seven kids and counting
Six beehive hairdos
Five months of snow
Forty private clubs(for members)
Three-two beer
Two years in Taiwan
And a salty lake thats really stinky
On my ninth Utah Christmas my true love gave to me
Nine percent minorities
Eight kids and counting
Seventies in Conference
Sixteen to start dating
Five feet of slush(oh my heck!)
Forgeries for sale
Three piece suits
Two years in Ukraine
And a fiancee in Happy Vall-ey
On my tenth Utah Christmas my true love gave to me
Ten bucks for parking
Nine kids and counting
Eight missing off ramps
Seven guns per person
Six famous golfers
Utah by five
Fourteen ski resorts
Three fault lines
Two years in Detroit
And a minivan or SUV(or both plus a station wagon)
On my eleventh Utah Christmas my true love gave to me
Eleven Mormon Temples
Ten kids and counting
Nine NuSkin neighbors
Ate at Chuck-a-Rama
Theven thpecial thpiritth
Six Jello salads
Five Orrin terms(oh my Hatch!)
Forecast is cold
Three Eubanks(three?)
Two years in Tibet
And an uncompleted Legacy Highway
On my twelth Utah Christmas my true love gave to me
Twelve year old deacons
Eleven kids and counting
Ten percent tithing
Nine zillion seagulls
Ate a bunch of crickets
Seven Peaks in Provo
Six hours to Vegas
Five pro sports teams(if you count indoor football)
Four standard works
Three Nephites
Tooele rocks
And construction on I-15
In the new year spirit(tm) just like the rest of us, most of the Apostles and the Prophet have ideas of what they would like to do for the new year which would be an improvement over the previous year. Many people choose weight lose or making more money, well, not our favorite Brethren. Here is a list of some of the resolutions they came up with.

Thomas S. Monson - To become a Widower before his wife becomes a widow so he can use his great influence on other widows and singles, like Nelson and Oaks did.

Henry B. Eyring - Buy some stock in Kleenex and Puff's tissue paper

Dieter F. Uchtdorf- Find an analogy for next conference not related to flying airplanes

Boyd K. Packer - Find his lost little factory

L. Tom Perry - Get back the flannel board he loaned out in 1972, he has some very media intensive projects in the works.

Jeffrey R. Holland - Convince members during the next conference that his Book Of Mormon on CD is the original hand written manuscripts of Joseph Smith using a little know 'Apostle Mind Trick' he got the idea for from watching Star Wars.

David A. Bednar - Return Boyd's little pickle...er factory.

Robert D. Hales - Ask Jeffery R. Holland for his jowls so he can fill in his withered face.

Quintin L. Cook - Get further into the shadow of Russell Ballard.

Richard G. Scott - Come up with a great talk for conference about how victims really are responsible for whatever happens to them and should feel great guilt and then one minute telling them they are not at fault.

M. Russell Ballard - Get his own internet Youtube Channel. Lying for the Lord

Neil L. Anderson - Making his mark on the Quorum by doing something to upset the anti-mormon community so Primus can come up with something for him in 2012, like a pickle speech or something.

D. Todd Christopherson - Get a new toupee

Dallin H. Oaks - Start carrying around airfreshner with him to spray the room after he speaks some absurd legalize about why the Church is the victim, not the group they are persecuting, the next time he speaks out his ass.
More things you definitely won't hear at conference...

• We are now pleased to announce a new singles ward program for same-sex oriented members.

• Sisters and brothers (in that order).

• Now I speak somewhat to the youth of the Church. Be wise. Use protection for Christ's sake! Here is a picture of what syphilis looks like.

• Sisters, the Lord has revealed that it is now time for you to bear the priesthood.

• It appears that someone has voted opposed. We will now take some time to hear his concern.

• The law of consecration will be restored in the upcoming year. Abolishment of private property and Zion are key tenants of the one true religion. The choir now sing, "We thank thee O God for a Manifesto."

• Brethren. Love your wives. Love her often. Maybe try a new position tonight.

• To each of you I bear solemn witness that Christ lives. He and I had lunch yesterday. He says "hi."

• We are pleased to announce the construction of a soup kitchen in Salt Lake City.

• Members, please spend more time with your families, and less at all these mandatory meetings.

• (Bednar). Why yes, my hair IS plastic.

• (Ukdorf). I will now tell a story without airplanes.

• (Packer). Years ago I had a little toy factory...

• (Holland). I love you all. You all do so well. Keep up all the good work my dear brother's and sisters. You deserve no rebuke today.

• (Oaks). Sue us then!

• (Eyring). Brothers and sisters when it comes to money you your damn brains. Don't trust that magic ponies will pay your mortgage for you just because you donated money to a corporation. That's silly.

• (Christofferson) No I'm really not a guest speaker. Why does everyone think that?

• (Monson). Hearts were touched, and tears were shed. In the name of Jesus Christ, our lord our savior, our raptor, amen.
Everybody loves Runtu's "Top Ten" lists. After scouring through the archives. . . and with a little help from the search feature. . . I have compiled a list of the top ten of Runtu's top ten lists:

10. The top ten Internet domains bought up by Allen "The Slug" Wyatt before anyone else could register them

09. The top ten methods Mopologists use to deny the Internet Mormon/Chapel Mormon dichotomy

08. The top ten disappointments expressed by attendees of William Schryver's FAIR presentation

07. The top ten Mopologetic theories for why Robert Ritner quit John Gee's dissertation committee

06. The top ten Book of Abraham champions who ran for the hills after an exchange or two with Brent Metcalfe

05. The top ten ways in which Louis Midgley has embarrassed himself in public

04. The top ten misogynistic comments posted to MormonDiscussions.com by faithful Priesthood holders

03. The top ten uses of light cotton

02. The top ten things that FAIR and FARMS would like to do to Rodney Meldrum

01. The top ten excuses Juliann has given for failing to cough up the transcript. . . you know, like the kind that court stenographers make
From time to time the so-called historians and folklorist roll out their same tired old arguments. I probably shouldn't grace this folly with another written response, but I feel a general calling to do so and hope that I can spare some honest inquirer the error of unreasonable attack.

Those who have engaged in these attacks against our beliefs have long done so under the guise of scholarship, but their thinly veiled language barely masks the contempt they have for our faith. I must further state that we, as believers do not like to talk about the New Clothes, because we hold them to be sacred. They are not secret, but out of deference to our faith these "scholars" should honor our wishes about writing and speaking of the garment. However, they will continue to display their disdain for the defenders of truth.

Of course, the most well known anti-Imperial writer is none other than the infamous Hans Christian Andersen. Anderson, the flirtatious homosexual and known recluse provided a distorted view of the truth that is still leading many innocent readers astray even today. Today, most of the writings by the so-called scholars quote Anderson as a primary source, displaying their confirmed bias against our beliefs. Rather than provide new arguments, they continue to simply regurgitate old arguments that we have successfully dealt with in the past. So, with a big sigh and a cluck I will again deal with these arrogant attacks with my humble writing.

First of all Anderson and those of his ilk simple love to parade out the same old lies time and time again. Take for example the idea that the tailors, Guido and Luigi Farabutto, were swindlers is a mistruth, perpetuated by those wishing to destroy the faith and virtue of millions. In reality, the tailors were acting in the role of an Elias as evident by their providing the sacred garment to the Emperor. How could the humble tailors be deceiving the great Emperor when they were providing a service? Although it is true that they did charge the Emperor for their services, they were simply following the common practices of their time. Indeed, since there is no evidence that they overcharged the Emperor, we can conclude that they charged less than the normal rate for tailor services. Swindlers indeed! These men were providing their service at a lost, almost certainly.

The most glaring mistake is of course the assumption that there was no clothing. This bald face begging-of-the-question is the weak foundation upon which they build their entire case. However, there is nothing in any of the writings to assume that the clothing was not there. We shall return to why some did not see it in a moment. They are assuming that there was no garment, something that they themselves must take on faith. They simply substitute faith for faith and act as if they are on some sort of moral high ground. However, the burden of proof is on them to prove that the garment did not exist. For we have several witness who can affirm to its existence. Not just one tailor, but both confirmed its reality. Furthermore, the emperor and all of his aids attested to its existence confirming that they saw it with their own eyes! Testimony like that that is not so easy to dismiss.

The ongoing attack on the Emperors aids has been a cunning ploy to discredit those who meekly submit to righteous authority. These humble workers would have every reason in the world to tell their Emperor if the garment was a fake. What would they possibly gain by lying? This reveals the biggest gap in the anti-Believers theory. Their theory makes no sense in light of human nature and they must twist and tug their distorted views to make it even seem plausible.

The antis rely on the simple testimony of a child and the riotous crowd as their sole confirmation that the garments were not real. Once again, they ignore the valiant testimony of all of those who had seen the garment. Do they not read the very works they are criticizing? For right in the text it states that only those who were good and refined could see the garment. We then turn to the unrefined street rabble to confirm its existence. Their very protest confirms that the garment existed, for if it existed, they would not be able to see it!

We also have the testimony today of the millions of believers who wear the New Clothes at our sacred services in this day and age. We can provide no other information due to its sacred nature, but suffice it to say that their testimony is added to the stack. How can so many believers who have seen and experienced the garment–and offer their humble testimony be wrong. The anti writers display their supreme arrogance by suggesting that they know more than millions!

Lastly, and most important we have information for our day and time that confirms the validity of the New Clothes. From modern revelation we have their words delivered to the Emperor:

"The garment is most sacred, and desirable above all things. And the children of men do desire to possess these things. Yea, they do strive with the cunning, and with their deceptions, and with their lyings and murderings.

"Blessed are ye, who shall believe. For behold, I provide unto a sign of their disbelief. For those who disbelief in the New Clothes shall not see, if it shall be as if they are naught. But fear not, for you shall see.

"And if the disbelief of thine own heart causes you to not see. Behold, I command that you shall exercise the desire to see. And if the desire is true even one day you shall see, and this is my witness to you.

"And in that great day, behold, the clothing shall be revealed to the unbelievers. And there shall be weeping and gnashing of teeth. And all shall know that ye do wear the true clothing in righteousness."

The attackers have full access to these revelations but they conveniently ignore this ancient evidence showing again that they are more interested in perpetuating their lies than dealing with reason and logic.
Top Ten Things For Ex-Mormons to do in Case The Church is True...

10. Collect as many secret temple names from hot ladies as possible...

9. After you croak, tell the guy at the gate you're a friend of J. Golden Kimball

7. Wake up and shake it off the way you would any other bad dream...

6. Come the Resurrection, glance down at where your genitals used to be, acknowledge the feeling, and remember all the trouble the damn things caused you in the first place.

5. Blame it all on Steve Benson...

4. Blame it all on Boyd K. Packer.

3. Bring up the subject of Hitler's temple work to the gatekeeper...

2. Spill the beans on all the family secrets and claim you didn't want to spend forever with most of those d-bags anyway...

1. Start an MLM coffee operation in Outer Darkness

And a Happy Pioneer Day--er day after to all my fellow Exmo's...
Good morning brothers and sisters. Today's lesson is on how to make all the evidence fit together neatly. The great thing about the gospel is we know it is true, even perfectly true. Therefore, the evidence will fit perfectly. Sometimes members struggle when so called evidence from the wordly scholars appears to contradict the gospel truths. However, if you trust in the lord, these seeming contradictions will melt away.

Today's lesson is an object lesson. You will need a square peg, round hole, and big hammer. The square peg is symbolic of the gospel truths. The round hole symbolizes the scientific evidence from worldly scholars. The hammer represents the Lord.
Attempt to push the square peg through the round hole without the hammer. No matter how much you strain, you cannot make it fit.
Now, take the hammer and pound the square peg into the round hole. If you hit the peg enough times and hard enough it will eventually go in.
In conclusion, as the object lesson illustrates, without the Lord we are powerless to make the evidence fit. However, with the Lord's strength, we can make it all fit together.

I say these things in the name of Jesus Christ, Amen.
"What is this?

A mall

Does it have a name?

It does.

Will you give it to me?

I will at the cash register.

Health in my wallet, strength in my shopping bag, be upon my purchases and all those that use these purchases, until they go out of fashion, or until they come back in fashion.

PAY LAY bill. (but have an ALE at Laban's head pub)"

http://www.salamandersociety.com/mall...
Church Statement Regarding 'Deseret News' Article on Internet Porn and Utah

SALT LAKE CITY--The Church issued the following statement today in response to news media requests:

In 2009, the Deseret News reported that Utah has the highest rate of paid online porn subscriptions in America. (http://www.deseretnews.com/article/70...) Since that article was printed in the Deseret News and other media outlets, some have jumped to speculative conclusions about what this says about Latter-day Saints. Such persons have also misrepresented the Church's teachings in their statements. It is unfortunate that the Church was not given a chance to respond to what others said.

Since its earliest days, the Church has encouraged its members to be responsible, self-reliant, and economically self-sufficient. When the worldwide economic downturn began in 2008, the Church reminded its members to follow the old adage, ""Use it up, wear it out, make it do or do without." (http://www.ldschurchnews.com/articles...) And that advice certainly applies to viewing online pornography. Members of the Church believe that financial responsibility should always be kept in mind when choosing what kind of pornography we are willing to pay for. As President Thomas S. Monson taught in the November 2002 issue of the Ensign, "We must not allow our yearnings to exceed our earnings."

These teachings about financial responsibility go hand-in-hand with another important principle of the gospel: honesty. The Lord told the ancient Israelites, "Thou shalt not steal." When we take products or services from others without paying for them, we are stealing. We are stealing their livelihoods and their work. As one Church leader has observed, "Stealing is a sin against our Heavenly Father even when motivated by need and poverty. The act dishonors God (see Prov. 30:9).(http://www.lds.org/ensign/1994/09/tho...) Conversely, the honest man who chooses not to steal, even under stressful circumstances, shows trust in God. He is conscious of his covenant relationship with the Lord and chooses to sustain it."

No matter how much we need or want something, it is wrong to take it without paying for it. Further, the Lord has commanded His followers to be wise in how they use the resources they have been blessed with. We condemn dishonesty, which includes stealing, and we are pleased that so many of our members recognize the need to be honest in their dealings with their fellow men.
The state of Missouri is often asked about the Extermination Order issued by governor Boggs against the Mormons. It has come to our understanding that church leaders still talk about this from the pulpit and teach it in their lesson manuals. The Extermination Order was a sad and tragic incident in Missouri history, carried out by a few rogue Missourians, but it is important to remember that the Extermination Order was not doctrinal.

A Governor is only a Governor when speaking as such. It is clear that the extermination order was only the opinion of Governor Boggs, and was never official doctrine. We know this because the state of Missouri revoked the order in 1976. If it was official doctrine, it never would have been revoked. It saddens me that mormons continue to bring up this old tired argument in an attempt to discredit Governor Boggs. It is obvious to those of us who have actually studied the issue that the Extermination Order was not taken seriously by the vast majority of Missourians. Only a few rogue men who misunderstood the order took it upon themselves to commit crimes against the mormon people.

We don't know why Governor Boggs said what he did. Many people have tried to offer an explanation with limited light and knowledge, but the truth is we just don't know. The important thing to remember is the order was revoked over 35 years ago. We welcome Mormons into our great state with open arms. We have moved on, and we wish that the church would finally put this behind them. Sadly, it seems the old saying is true - you can leave Missouri, but you can't leave Missouri alone.
Sing to When upon life's Billows...

When upon life's billows and you need to shop
When you are discouraged at the parking lots
Come to CITY CREEEEK,..... each and everyone
And it will surprise you what God's corp-or-ation's done

C....ount your mone...y, hundreds...fives and ones
C....ount your credit cards and see what sales are on
Ignore the home.......less outside the temple walls
Count how endless tithing had.... no effect at all.

Are you ever burdened with the lines at Gap
Do your bags seem heavy as you shop at Mr. Mac
C......ount your money... and GAZE up in the sky
Ask yourself why Condo prices... are so high.

When you shop at City Creek with diamonds and the gold
Think that Christ has promised you His wealth un....told
C-o-u-n-t your many blessings, with Credit on your side
No reward in heaven,... just this palace in the sky

So amid the conflict at the check out stands
Do not be discouraged at five billion spent
C...ount your many blessings at the tithing you sent in
Question not the leaders that would be co-mitt-ing sin

C.....ount your money, hundreds, fives and ones
C....ount your money and scorn-those that cannot come
C....ount the tithing... sent in by me and you
Count the money and ignore Mormon8 verse32

Are you ever burdened with a load of debt?
Does the cross seem heavy when you're tithed to death
Count your many blessings as your house is reposessed
And keep ever faithful in the state of most depressed.

So, amid the conflict whether great or small,
Do not be disheartened, God is owner of the mall;
Count... your many blessings, angels will attend,
Help and comfort give you till your shopping ends.
Salt Lake City, UT, 4/19/2012

The LDS Conference Center in Salt Lake City suffered from a self-abuse problem earlier this week.

The Conference Center contains a "little factory" to manufacture electrical power if it is needed at the appropriate time. This was put there by the creator of the Conference Center with wisdom in preparing for a possible power outage. This wise design was intended to be used only with a congregation in the center that has been properly invited by those in authority, and only during a power outage. However this "little factory" was stimulated into production BEFORE it was appropriate and it was done in an inappropriate way.

The Conference Center suffered from this inappropriate and unwise stimulation of it's "little factory" when high-energy excitement (that should have been kept in it's place by singing a hymn) was allowed to run rampant through the system.

The excess of energy that resulted by the unwise stimulation triggered fluids to flow in an inappropriate way which was contrary to the design of the creator of the conference center. The damage caused has reached half a million dollars--a stark and somber warning against the dangers of self abuse.

Authorities are considering changes to avoid this problem in the future. One plan calls for excess insulation around the offending electrodes. If that is not sufficient to eliminate the problem, grounding one of the electrodes to a bed post might be necessary.
The good news is that this means there is still time to offer suggestions to the COB for inspirational music that you think should be included.

I can reveal some of the titles of the awe-inspiring musical offerings that already have been selected. They are a radical departure from the humdrum, run-of-the-mill Hymns that Mormons have grown up with. These hymns will electrify your testimony like nothing else can:

(1) When You Wish Upon a Peepstone.

(2) Mummy Dearest -- Ode to the Book of Abraham

(3) Nancy, Helen, Fanny and Emily -- Joy of Joe's Desiring

(4) I Have Rent My Garment (Instead of Buying)

(5) A Holy Hat and the Vapors of Mercury

(6) She's Buying a Handshake to Heaven

(7) Eat, Shiz, and Die (words by H. Farber Jensen)

(8) Melchizedek's Machete and Two Hundred Severed Arms

(9) The Beheading Dance of the Daughter of Jared

(10) Can One Have Too Many Wives?

(11) Give It to Me Through the Veil

(12) Jesus and Michael, How They Do Go Down

(13) Flecks and Couplets (a tribute to Gordon B. Hinckley)

(14) Do Unto the Widows and Orphans for They Are the Stuff of Great Conference Talks (a tribute to Thomas S. Monson)

(15) Standing in Something (a second tribute to Gordon B. Hinckley)

If you have any additional suggestions, now is your big opportunity at a shot of hymnal immortality for your favorite inspirational song.
Mormon apologists and Monty Python's dead parrot sketch

In Monty Python's famous "Dead Parrot Sketch" a pet-shop owner (Michael Palin) tries to convince a dissatisfied customer (John Cleese) that the parrot he just bought is not dead.

Michael Palin comes up with fanciful answers to John Cleese's complaint that the parrot is dead, "it's sleeping; Norwegian Blue's sleep on their back like that--beautiful plumage innit?" "it's stunned" etc.

It reminds me of Mormon apologists

John Cleese: "The genetic markers in Native Americans show that they were from Mongolia and not Hebrews."

Michael Palin: "Well, the Hebrews were absorbed into the local population and their genetic markers were bread out."

John Cleese: "But the Book of Mormon says the land was kept from all other peoples."

Michael Palin: "Oh yes, but by 'the land' they mean a small area in meso-America where all the action took place."

John Cleese: "How could all the action take place in meso-America if the final battle was at the Hill Cumorah in western New York state?"

Michael Palin: "Oh, well, there were really TWO Cumorahs. The one where the battle took place and where the plates were buried is in meso-America somehwere and the plates were miraculously transported to the Hill Cumorah in New York State."

John Cleese: "But all the church leaders from Joseph Smith on have said that the one in New York is the one mentioned in the Book of Mormon."

Micheal Palin: "They were speaking as men at the time. Their statements to that effect were never canonized. Prophets are men and are not perfect."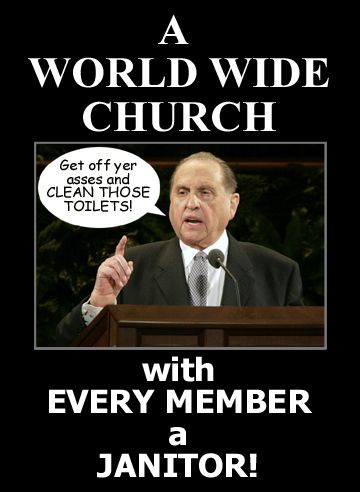 And it came to pass Lehi is a prophet in Jerusalem at the time of Jeremiah (never mind that Jeremiah says that there are no prophets.) (Also nevermind that these are the small plates of Nephi which are supposed to be about spiritual things only and not about a history - but the book conveniently starts out with a story to introduce the characters and create dramatic tension.)

Well Lehi starts to piss people of and they start throwing rocks at him and stuff.

And it came to pass Lehi has a revelation that he needs to leave Jerusalem and that he will be led to a promised land.

And it came to pass they skedaddle out of town and head 250 miles into the desert leaving behind their riches.

Laman and Lemuel are showing signs of being rebelious already. Lehi tells them that they need to go back to Jerusalem and get the brass plates from Laban - a relative of some sort of Lehi. Laman and Lemuel whine but Nephi brown noses and says he knows the Lord will provide a way.

The brass plates are the Bible - the Old Testament. It includes everything in the Old Testament and more. This includes writing by Isaiah that didn't happen until after they left. It also inlcudes writing by Jeremiah that were comptemporary. These brass plates are amazing because they are the only complilation of the Old Testament in existence at that time. Also brass doesn't exist yet and metal working to keep records is essentially unheard of.

Somehow this huge creep Laban has the greatest treause in the ancient world. He's a big shot - he is in charge of 50 men.

And it came to pass they go back and cast lots and Laman gets the short stick. He has to go talk to Laban first. So Laman goes in and says - my dad wants you to give us the brass plates, so, um can we have them please? Laban goes ape @#$%and crazy and says that Laman is a robber and attempts to murder him. Because you know captains of 50 soliders do that sort of thing if you ask them for something.

Laman runs away and says - we failed let's go home. But Nephi says - no I have an idea. See Laban is a murderer and went all crazy on you for no reason. So I have this really bright idea. Let's go get all the riches we left behind and no one has stolen despite us dissapearing months ago. Then we'll carry them straight in to Laban. We won't be smart enough to hide the riches somewhere and bargain with Laban. No we'll just take them right in with us because Laban is trustworthy - it's not like he just tried to murder one of us or anything.

And it came to pass that, shocker ,evil Laban steals their treasure and tries to kill them again, but his 50 soliders are incompetent and the 4 brothers easily get away - but they have to leave all the treasure behind.

And it came to pass now Laban and Lemuel are really pissed at Nephi and Sam. So they start beating the @#$%and out of them with a Rod. An angel shows up and tells them to stop doing that and goes away. The angel doesn't bother to give them any ideas of how to get the brass plates.

And it came to pass even though an angel came Laman and Lemuel say it is hopeless. But Nephi just randomly wanders into town not knowing what to do but having faith something will work out.

And it came to pass Nephi is wandering around town and happens across Laban all by himself passed out drunk on the street. Laban is also in his full awesome suit of amazingness, drunk, in the middle of the night, alone.

Nephi hears a voice in his head that he should kill Laban. He doesn't want to do it but the voice continues to talk to him. Because that's how God works you see - he makes teenagers murder people based on voices in their head.

And it came to pass the voice in the head explains that Laban was a huge jerk to try to steal their stuff and kill them so that justifies murder. Besides they just have to have the brass plates otherwise their whole nation won't know god. And there is no other way to get the plates other than to murder Laban - because you know that's just how God works.

And it came to pass Nephi decides to do it. He grabs Labans sword - because you know drunk guys always have their sword with them when carousing. This sword is the 2nd greatest treaure in the ancient world it's all fancy and has more not existent ore. Plus the Nephite generals use this sword for 1,000 years and Joseph Smith ends up with it from angel Moroni.

Now how does Nephi kill Laban? By decapitating him of course. Slitting his throat or something like that won't do. We don't know quite how he got the leverage and angle to cut his head all the way off while Laban was laying there on the ground, but Nephi slices his head clean off. (And it came to pass that after Nephi sliced his head off that Laban stood up and gasped for breath - just kidding that's silly no one could stand up and gasp for breath after being decapitated - that's just a bunch of Shiz.)

However, Nephi manages to do this without getting Laban's clothes all bloody. In fact he now takes Laban's clothes off Laban's decapitated body and puts them on.

Next Nephi wanders over to wherever Laban lives. He then runs into Laban's servernt Zoram. Nephi is so amazing he completely fools Zoram into thinking he is Laban. This Zoram happens to have the keys to the greatest treasure in the ancient world so clearly Laban must trust him completely. Despite this Zoram can't tell that Nephi is faking being Laban. So they go and get the brass plates together.

These brass plates would need to weigh something like 600 pounds to hold the entire old testament plus all the lost Z prophets later mentioned in the Book of Mormon like Zenoch and such.

No worries, Zoram just carries them. They chat like old friends. Zoram continues on completely fooled by Nephi to the edge of the city.

But now more drama unfolds. Laban, Lemuel and Sam see Zoram and Nephi and freak out. I mean they are coming at them at lightning speed with those 500 pound plates.

The brothers freak out and Nephi blows his cover. But now Zoram freaks out. But Nephi is really strong and big even though he is young and takes Zoram down - besides Zoram is worn out from carrying those plates - and he's probably a wimp since he just carried those plates effortlessly.

Then Nephi says - hey Zoram why don't you just run away with us and come live in the desert and look guilty of theft and murder? And Zorams like, yeah that's cool lets go. So then Zoram and Nephi are best buddies from then on.

So they take the plates back to Sarai and Lehi. Sarai has been really pissed at Lehi because she figures he got their sons killed. Needless to say Lehi hasn't been getting any in the tent for several weeks.

Then Lehi looks at the plates and Sarai forgives all. Then Lehi builds an alter and offers sacrifices. Of course the penalty is death for doing this if you don't belong to the tribe of Levi. But hey they are in the wilderness and it would be so much cooler if he was from the tribe of Jospeh - same as Joseph Smith you see. So he's from the tribe of Joseph but still does the sacrifices - no biggie.

The end.

Oh wait. But they forgot to bring along any women. So they head back to convince some cousins with hot daughters to come back with them so they can propogate the species. No complaints from Laman and Lemuel this time. They do another 500 mile round trip and grab the trophy wives.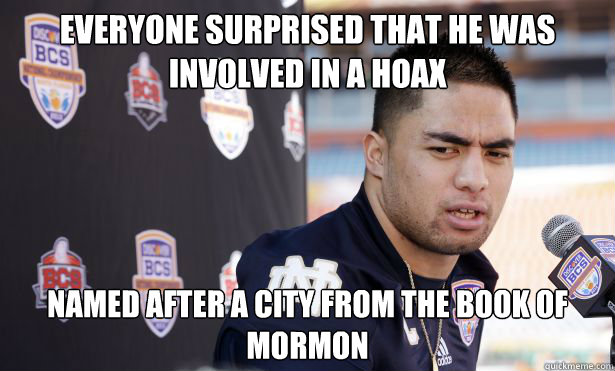 To Old Men Only...

COME CLEAN!

There are present in this forum session only those who have experienced the bitter sting of a religion that shreds asunder loving families. I approach a subject that could not appropriately be discussed if there were others present. I have solemnly thought fervently for inspiration as I speak to Old Men of Melchizedek Priesthood age: to Old Men only.

I wish to discuss a subject that your fathers should have discussed with you, their sons. Because some young men do not have fathers and because some fathers (and some bishops) do not know how to proceed, I approach a very personal subject, one that is important to every Old Man soon to be on death's doormat...

INTEGRITY and HONESTY and YOUR LEGACY!!!

For once in your life please consider doing something that is truly honorable and compassionate towards your fellow man.

COME CLEAN!

Yes...even you can become a true Hero to millions of decent gullible Mormons who are teetering on the brink of jettisoning their congenital religion yet are forced, because of you, to play-along in an effort to keep peace within their family and extended families.

COME CLEAN!

One of you, perhaps, has not fully understood until now. Perhaps your father did not talk to you. You may already have been guilty of tampering with the powers of lying and deceit. You may even have developed a habit. What do you do then?

COME CLEAN!

First, I want you to know this. If you are struggling with this temptation to impersonate a Prophet or Apostle, and perhaps you have not quite been able to resist, the Lord still loves you. It is not anything so wicked nor is it a transgression so great that the Lord would reject you because of it, but it can quickly lead to that kind of transgression. It is not pleasing to the Lord, nor is it pleasing to you. It does not make you feel worthy or clean so...

COME CLEAN!

You will immediately feel as if a great burden has been lifted from your shoulders. No longer will you have to concern yourself with trying to remember which lies you told to cover up other lies. Your conscience will become as pure and white as the wind driven snow up on Mt. Timpanogos.

COME CLEAN!

Resist those temptations. Do not tamper with the short-sighted enticements of prevarication. If you have already, cease to do it–now. Put it away and overcome it. The signal of worthy manhood is self-control.

Now a warning! I am hesitant to even mention it, for it is not pleasant. It must be labeled as major transgression. But I will speak plainly. There are some circumstances in which Old Men may be tempted to handle one another's life, to have contact with one another in unusual ways that they feel is excused and misrepresented by saying that, "Well, what I am pretending to be what LDS Inc offers is still the best thing out there for many lost souls." Latter-day Saint Old Men are not to do this!

COME CLEAN!

For the first time in your life you will be able to look at the man in the mirror and say, "I have come to admire this person!"

COME CLEAN!

Many in the upper hierarchy of the Church would, I am sure, be amused by this counsel. Let them be amused. They live by another standard, a lower one. We live by higher standards and continue to teach it. Millions who have chosen Integrity and Honesty and have left the confines and tentacles of Mormonism are proud to have upped their own personal standards of decency, ethics and morality...so up yours!

COME CLEAN!

It is never too late to do the right thing. An Old Man can never waste or wear out his life by doing the right thing. No matter how late into his "golden years" that he finally decides to choose the right and determine that in becoming a better person it will be a blessing not only to himself but to his progeny as your name shall be remembered and held in high reverence for ever and ever more.

So it is written...so it shall be done!

This will be one of the rare few opportunities in your life thus far to become an authentic HERO to those who mean the most to you.

Don't squander it!

Or so it seems to me...
I CANNOT divulge from what high-level source I got my hands on this, so don't even ask. My understanding is that these will be released in wards within the next month. Evidently they are being tweaked/ re-issued as being more appropriate for the "modern-day" church.

1) We believe in God, the Eternal Father, and in His Son, Jesus Christ, and in the Holy Ghost. But not Heavenly Mother. Wink.

2) We believe that men will be punished for their own sins. And punished, and punished, and punished, and punished.

3) We believe that through the Atonement of Christ, all mankind may be saved, by obedience to the laws and ordinances of the Gospel as well as learning several secret handshakes and code phrases.

4) We believe that the first principles and ordinances of the Gospel are: first, Paying Tithing; second, Paying Tithing; third, Paying Tithing; fourth, Not Masturbating.

5) We believe that a man must be called of God, by prophecy, and/or by having contributed a sufficient amount of tithing money, and/or by having a high-paying professional job. Being white helps.

6) We believe in the same organization that existed in the Primitive Church, namely, apostles, prophets, secret handshakes and code phrases, for-profit business arms, billion dollar malls, and so forth.

7) We believe in the gift of tongues, prophecy, revelation, visions, healing, interpretation of tongues, and so forth. We just don't actually use any of them.

8) We believe the Bible to be the word of God as far as it supports our positions; we also believe the Book of Mormon to be the word of God, noting that sometimes God makes gramatical errors.

9) We believe all that God has revealed, all that He does now reveal (which we admit is pretty much nothing), and we believe that He will yet reveal many things in total contradiction to previous revelations.

10) We believe in the literal gathering of Israel and in the restoration of the Ten Tribes; that Zion (the New Jerusalem) will be built upon the American continent; and that Christ will return in a business suit to personally reign as CEO.

11) We claim the privilege of worshiping Almighty God according to the dictates of our own conscience, and allow all other men the privilege to shut up.

12) We believe in being subject to kings, presidents, rulers, and magistrates, in obeying, honoring, and sustaining the law. Unless we don't like it. Though on the other hand we're open to changing our doctrines if the law is going to cost us.

13) We believe in lying for the lord, in looking outwardly virtuous, and in doing good to all men if the media is around; indeed, we may say that we follow the admonition of Paul (except for the part about staying unmarried which was probably mistranslated or was Paul speaking as a man). We believe all things, we hope all things, we have endured many things including cleaning the toilets, and hope to be able to endure all things with the aid of anti-depressants. If there is anything virtuous, lovely, or of good report or praiseworthy, we will make sure to put a stop to it.
---
How to navigate:
Click the subject below to go directly to the article.
Click the blue arrow on the article to return to the top.
Right-Click and copy the "-Guid-" (the Link Location URL) for a direct link to the page and article.
Archived Blogs:
Articles posted here are © by their respective owners when designated.

Website © 2005-2021

Compiled With: Caligra 1.119



HOSTED BY